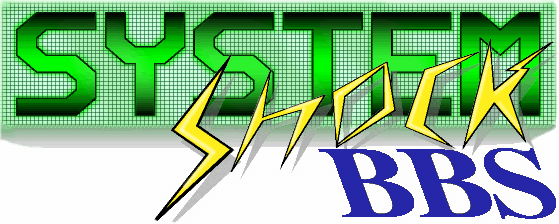 CONNECT 209.51.188.53:23/IPv4
Press LMB twice to edit this page
Guest login enabled (hit RETURN at the password prompt)
Online Services ¶
BBS File Archives ¶
No ratio, leech as much as you want!
You might also want to browse the full file list, or the short list.
Web presence ¶
The Original System Shock Website is back online!
Telnet access ¶
Only on special occasions, System Shock BBS can be reached at 6502. Only one telser user at a time for now, sorry. New users should email the SysOp to speedup account validation.
Oh, don't bother sending Echomail - we no longer poll our Fido Hub. If you don't like our new Policy, go on and file a Formal Complaint to the FidoNet NEC ;-)
FIXME: any suggestions for a good BBS-ANSI terminal with telnet support for Linux? ZModem support would be very useful.
Events ¶
List of Points ¶
| | | |
| --- | --- | --- |
| | Point | Summit |
| bernie | 1 | V |
| fby | 9 | V |
| mostro | 21 | V |
| rasky | 33 | |
| nevez | ? | |
| steak | 12 | |
| mad | 13 | |
| woody | ? | |
| lobo | ? | |
| gerardoperillo | 24 | |
| ladyblue | xy | new entry |
| vic | 22 | ringamb |
| aleph | ¿ | V |